Are you worried about identity theft?
Identity theft is when your personal information is taken without permission and used in nefarious ways by hackers, often for financial reasons. If your information is stolen then you may face unauthorised purchases on your credit card, seizure of your financial accounts or new financial accounts created (like having a loan taken out in your name). 
All of this is scary stuff and you'd be surprised at how often it happens to Kiwis! So how do you keep yourself safe from identity theft?
Simple, get the brand new security product: Norton 360 Platinum!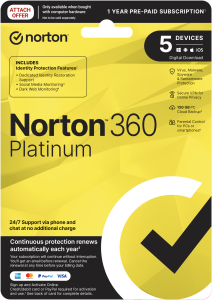 What's new about Norton 360 Platinum? 
Norton 360 Platinum is a comprehensive all-in-one cybersecurity product that has just been released. It includes a long list of features that will keep you safe online, no matter what situation you may find yourself in. 
Norton 360 Platinum is available on up to 5 or 10 devices including PCs, Mac, tablets or smartphones. Plenty of coverage for all your gadgets and your whole whānau!
The thing that sets Norton 360 Platinum apart from the rest of the Norton line-up is the inclusion of a feature called Identity Restoration Support!
What's Identity Restoration Support?
The hardest thing about being the target of online identity theft is not knowing what to do. Once you find out your personal details have been leaked, it can be incredibly stressful to the point where you are lost on what actions you should take. That's where Norton 360 Platinum's Identity Restoration Support comes in.
This feature offers dedicated support from an expert who will guide you through the process of resolving the identity theft issue. You simply call up the Restoration Support number, the specialist will open up a case and immediately begin working with you, they'll solve any issues with different parties that may be involved, and work up until your case is closed. They are fully dedicated to your case every step of the way. 
These specialists are award-winning and know their stuff! They are available 7 days a week and have access to thousands of worldwide theft processes. They can help solve issues with a variety of different parties including credit card companies, government entities, financial organisations and more. 
Don't just take our word for it though! Local broadcasters Meg and Guy Mansell say: "Two years ago, our retirement saving provider informed us that hackers illegitimately obtained our personal information… It's hard to describe the vulnerability you feel when faced with this discovery."
"We didn't know what to do at the time, apart from changing that password. Looking back, if we had new Norton 360 Platinum we might have received alerts when the data was discovered on the dark web, and Norton Identity Restoration Specialists could have handheld us through any potential identity theft or recovery process… We're now using Norton 360 Platinum, as it provides protection for our devices, online privacy and if we should need it, a helping hand with restoration." 
Norton's Identity Restoration Support feature is a life-saving tool. Avoiding potential long-term financial and emotional turmoil makes this feature definitely worth it!
Stay safe on Social Media
Not only does Norton 360 Platinum offer incredible identity theft protection, it also has a slew of other security features! 
One of these is Social Media Monitoring. Many users experience security issues on social media, so this feature involves advanced monitoring of accounts including Instagram, Facebook, YouTube, Twitter and LinkedIn. Potentially risky links are also detected on Twitter and YouTube. Any dangerous activity is notified to the user so they can take action. 
Keep your details off the Dark Web
The Dark Web is the shady side of the internet. If your private details end up there, you have a big problem. Luckily, Norton 360 Platinum includes Dark Web Monitoring which thoroughly scans the Dark Web for your details and lets you know if they have been leaked. You can input a variety of details to monitor including your driver's licence and even gamer tags! 
Secure VPN included
Norton 360 Platinum offers a highly secure Virtual Private Network (VPN). This will give you protection when you connect your device to public Wi-Fi. Norton 360 Platinum's VPN is simple to activate and highly customisable. You can even add bank-grade encryption!
Stop hackers from seeing you
Nowadays hackers can get access to your webcam. Don't stress about this anymore with SafeCam! SafeCam will notify you if a website or programme is trying to access your webcam and then you can choose to block it or allow access. *Only available on Windows
Your passwords are safe with Norton
Norton 360 Platinum's Password Manager generates and stores all your passwords in one secure place. You can even share your passwords across your devices or operating systems. Say goodbye to worrying about your passwords!
No more lost files
It's easy to lose your files to a system crash or cyberattack. PC Cloud Backup is a feature that allows you to back up your files to the cloud. Norton 360 Platinum offers 200GB worth of storage, much more than any other Norton product! *Only
Something for the parents
Keep the kids safe and focused online with School Time. This feature allows parents to manage their child's remote online learning. They can control what the child sees to allow them to focus on school tasks. An absolute game-changer for parents!
Our final verdict? 
Norton 360 Platinum is a cybersecurity product that is packed to the brim with features to keep everyone in your household safe.
While the multiple layers of protection are outstanding, it's their Identity Restoration Support feature that takes the cake. This feature will avert even the worst crisis if your identity is stolen. That's why we can't recommend Norton 360 Platinum enough!  
Not to mention, Norton has been one of the most trusted brands in internet security for over 25 years AND is the most awarded security brand by PC Mag!
For more on Norton, check out our reviews on Norton 360 Premium, Norton Identity Advisor Plus, Norton AntiTrack, Norton 360 For Gamers and Norton Utilities Ultimate!
Image by gpointstudio on Freepik